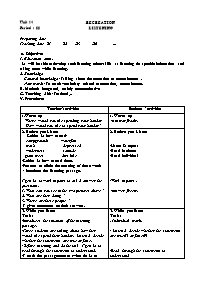 A. Objectives
1. Education aims:
 Ls will be able to develop such listening micro-skills as listening for specific information and taking notes while listening.
2. Knowledge
 General knowledge: Talking about the recreation or entertainment .
 New words: To teach vocabulary related to recreation, entertainment.
B. Method: Integrated, mainly communicative
C. Teaching Aids: Textbook,.
V. Procedure:
Bạn đang xem tài liệu "Bài soạn môn học Tiếng Anh 11 - Unit 14: Recreation - Period 88: Listening", để tải tài liệu gốc về máy bạn click vào nút DOWNLOAD ở trên
Unit 14 RECREATION
Period : 88 listening
Preparing date:
Teaching date :B1B2.B3.B6...
 A. Objectives 
1. Education aims: 
 Ls will be able to develop such listening micro-skills as listening for specific information and taking notes while listening.
2. Knowledge
 General knowledge: Talking about the recreation or entertainment .
 New words: To teach vocabulary related to recreation, entertainment.
B. Method: Integrated, mainly communicative
C. Teaching Aids: Textbook,..
V. Procedure:
Teacher's activities
Students' activities
1.Warm up
Where would you like spending your holiday How would you like to spend your holiday?
1. Warm up
 -Answer freely.
2. Before you Listen 
 Guides Ls how to read:
+ campgrounds +waterfall
+ trash + depressed
+ wilderness + solitude
+giant trees + dirt bike
-Guides Ls how to read them.
-Presents or elicits the meaning of these words
 - Introduce the listening passage.
T gets Ls to work in pairs to ask & answer the questions.
1. What can you see in the two pictures above ?
2. What are they doing ?
3. Where are these people ?
 T gives comments on their answers. 
2. Before you Listen
-Listen & repeat 
-Read in chorus
-Read individual
-Work in pairs .
 -Answer freely.
3. While you listen
Task 1 
-Introduces the situation of the listening passage.
-Three students are talking about how they would like spend their holiday. Listen & decide whether the statements are true or false.
- Before listening and do the task, T gets Ls to read through the statements to understand.
-T reads the passage once or twice for Ls to listen and do the task.
-T checks the answers with the whole class. 
- Feedback and give correct answers;
1.T.2.T 3.F .4.T.5.F.6.T
3. While you listen
Task 1
. Individual work.
- Listen & decide whether the statements are true(T) or false(F)
-Read through the statements to understand
-Listen to the teacher.
- Read the answers.
-Check again
Task 2. Answer the questions
- Guides:
. - Asks Ls to listen again 
 -Asks Ls to work in individual.
-Let Ls listen one more time.
 -Call some Ls to explain their answers 
1. Riding their dirt bike in the desert, taking showers in waterfalls and swimming in the lakes or rivers .
2. In sleeping bag or tent.
3. Because more and more people coming to these places and leave trash in the forests and takes rocks and plants with them.
4. He thinks nature is also important in the world.
5.In cities
6. Because she can not put up an umbrella tent in the wind or make a fire in the rain or carry a heavy backpack.
 - Give correct answers. 
Task 2
Whole class
-Read through the questions to understand. 
- Listen again to get information.
-Work in individual.
- Report your results in front of the class.
- Correct again.
4. After you listen 
- Asks Ls to work in group or pairs and answer question. 
-List three advantages of a camping holiday.
- Go around the class and offer help if necessary. 
-Call some groups or pairs to read their answers in front of the class. 
-Feedback and give suggested answers. 
-Comment and make necessary corrections
* Homework:
-Summarize the main points 
4. After you listen 
-Work in group
Discuss the requirement in the book
-List three advantages of a camping holiday.
-Suggested answers. 
Ex; When you are on a holiday, you can be close to nature and enjoy it.
-,you can enjoy the trees & flowers and the wildlife.
-can enjoy spectacular scenery.. 
* Homework: 

Tài liệu đính kèm:
UNIT 14LISTENIG (3).doc