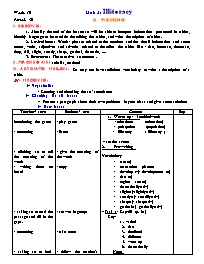 I- OBJECTIVES:
 1. Aim:By the end of the lesson sts will be able to interpret information presented in tables, identify language to be used for describing the tables, and write description of tables.
 2. Lexical items: Words/ phrases related to the numbers and the detail information and some nouns, verbs, adjectives and adverbs related to describe the tables like : rise, increase, decrease, drop, fall, slight, steady, sharp., gradual, dramatic, .
 3. Structures: The narrative statements .
II. TEACHING AIDS: chalks, textbook
III. ANTICIPATED PROBLEMS: Sts may not have sufficient vocabulary to write a description of a table.
.IV- PROCEDURES:
 1- Organization:
 - Greeting and checking the sts attendance
2- Checking the old lesson:
 * Present a paragraph about their own problems in your class and give some solutions
 3- New lesson
Bạn đang xem tài liệu "Bài soạn môn học Tiếng Anh 11 - Period 30 - Unit 5: Illiteracy D - Writing", để tải tài liệu gốc về máy bạn click vào nút DOWNLOAD ở trên
Week: 10	Unit 5: Illiteracy 
Period: 30 	 D - writing
I- objectives:
	1. Aim:By the end of the lesson sts will be able to interpret information presented in tables, identify language to be used for describing the tables, and write description of tables.
	2. Lexical items: Words/ phrases related to the numbers and the detail information and some nouns, verbs, adjectives and adverbs related to describe the tables like : rise, increase, decrease, drop, fall, slight, steady, sharp., gradual, dramatic, .... 
	3. Structures: The narrative statements .
II. Teaching aids: chalks, textbook
III. Anticipated problems: Sts may not have sufficient vocabulary to write a description of a table. 
.IV- Procedures:
 1- Organization: 
	- Greeting and checking the sts' attendance
2- Checking the old lesson:
	* Present a paragraph about their own problems in your class and give some solutions
	3- New lesson 
Teacher' s acts
Students' acts
Content
Sup
introducing the game
- correcting
- eliciting sts to tell the meaning of the words
- writing them on board 
- asking sts to read the passage and fill in the gaps.
- correcting
- asking sts to look the text again and pay attention to them 
explaining clearly
- dividing class into 4 groups.
- asking sts to write a paragraph.
- going around for help.
- correcting the aswer
- giving task
- play game
- listen
- give the meaning of the words
- copy
- answer in groups
- take notes
- follow the teacher's explaintation carefully
- groupwork
- write the answer on the board
- listen
- do the task at home
1.	Warm up: Jumbledwords
 - eticaduon (education) 
- pulatpoion (population) 
 - liliratecy ( illiteracy )
 * set the scene
2.	Pre-writing
Vocabulary
rate (n)
researcher = planner
develop (v)- development (n)
data (n)
region = area(n)
dramatically(adv)
slight(a)-slightly(adv)
steady(a)- steadily(adv)
sharp(a)- sharp(adv)
gradual(a) gradually(adv)
* Task 1: Gap-fill (p. 61)
 Key:
 1 . varied
rise
declined
different
went up
dramatically
 + Notes
structures
form
While writing
* Useful language (p. 62 )
*Write a paragraph of about 100 words, describing the information in the table.
 (p .62)
4. Post writing:
correcting the aswer
5. Homework:
Rewrite the paragraph 

Tài liệu đính kèm:
Av11(T30).doc