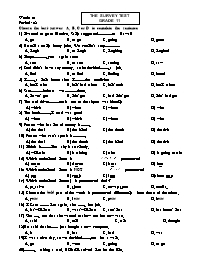 Choose the best answer A, B, C or D to complete the sentence
1) I wanted to go to Mexico. Sally suggested to Hawaii
A. go B. to go C. going D. gone
2) He told a really funny joke. We couldn't stop
A. laugh B. to laugh C. laughing D. laughed
3) I hope .you again soon
A. see B. to see C. seeing D. saw
4) Fred didn't have any money, so he decided .a job.
A. find B. to find C. finding D. found
5) I .a little better after I the medicine
A. feel/ take B. felt/ had taken C. felt/ took D. feel/ taken
6) Sam before we there.
A. leave/ get B. left/ got C. had left/ got D. left/ had got
7) The taxi driver took me to the airport was friendly
A) which B) when C) where D) who
8) The book .I read was good
A) when B) which C) where D) who
9) Person who has lots of money is .
A) the deaf B) the blind C) the dumb D) the rich
Bạn đang xem tài liệu "Bài soạn môn học Tiếng Anh 11 - Period 2: The survey test grade 11", để tải tài liệu gốc về máy bạn click vào nút DOWNLOAD ở trên
THE SURVEY TEST
GRADE 11
Week: 01 	
Period : 02	 
Choose the best answer A, B, C or D to complete the sentence
1) I wanted to go to Mexico. Sally suggestedto Hawaii
A. go	B. to go	C. going	D. gone
2) He told a really funny joke. We couldn't stop
A. laugh	B. to laugh	C. laughing	D. laughed
3) I hope..you again soon
A. see	B. to see	C. seeing	D. saw
4) Fred didn't have any money, so he decided..a job.
A. find	B. to find	C. finding	D. found
5) I ..a little better after Ithe medicine
A. feel/ take	B. felt/ had taken	C. felt/ took	D. feel/ taken
6) Sambefore we there.
A. leave/ get	B. left/ got	C. had left/ got	D. left/ had got
7) The taxi drivertook me to the airport was friendly
A) which 	B) when 	C) where 	D) who
8) The book.I read was good
A) when 	B) which 	C) where 	D) who
9) Person who has lots of money is..
A) the deaf 	B) the blind 	C) the dumb 	D) the rich
10) Person who can't speak is.
A) the deaf 	B) the dumb 	C) the blind 	D) the rich
11) I think itThe sky is so cloudy.
A) will rain 	B) is raining 	C) rains 	D) is going to rain
12) Which underlined letter is pronounced 
A)	more	B) docter	C) boss	D) box
13: Which underlined letter is NOT pronounced 
A)	put	B) cook	C) foot	D)afternoon
14) Which underlined letter(s) is pronounced /eI/ ?
A. passive	B. about	C. newspapers	D. media
15) Choose the bold part of the words is pronounced differenntly from those of the others.
A. your	B. four	C. pour	D. hour
16) If Kate  late again, she .. her job.
A. is/ will lose	B. was/ will lose	C. are/ lost	D. has been/ lost
17) She .. me that she wanted to show me her new vase.
A. said	B. told	C. talk	D. thought
18)He said that he just bought a new computer.
A. is	B. has	C. had	D. was
19)It was a nice day, so we decided.out for a walk.
A. go	B. went	C. going	D. to go
20).. taking a taxi, Bill still arrived late for the film.
A. Because	B. Because of	C. Although	D. In spite of
21).the icy roads, there were a lot of accidents.
A. Because	B. Because of	C. Although	D. In spite of
22)Tan the TV on when Quang comes
A. has turned	B. have turned	C. turning 	D. turns
23)They have built the new bridge .2006
A. for	B. since	C. in	D. at
24)Computers ..part of our daily lives for a long time 
A. has become 	B. have become	C. became	D. become
25)If he ..very clearly, people would understand him 
A. speaks	B. speaking	C. spoke	D. spoken
26)If she had had enough money on her, she .bought the coat.
A. will have	B. can have	C. has	 	D. would have
27) A: Oh, I have just realied, I haven't got any money.
 B: Haven't you? Well, Don't worry. Iyou some.
A. will lend	B. lend	C. to lend 	 D. am going to lend
28) A: Why are you filling the bucket with water?
 B: I.my car.
A. will wash 	B. washing	C. washed 	 D.am going to wash
29).is your form-teacher?
A. What	B. Why	C. Who	D. Where
30) ..you post the letter for me yesterday?
A. Have	B.Has	C. Do	D. Did
ANSWERS
1. C
2. C
3. B
4. B
5. B
6. C
7. D
8. B
9. D
10. B
11. D
12. A
13. D
14. C
15. D
16. A
17. B
18. C
19. D
20. D
21. B
22. A
23. C
24. B
25. A
26. D
27. A
28. D
29. C
30. D

Tài liệu đính kèm:
Av11(T2).doc