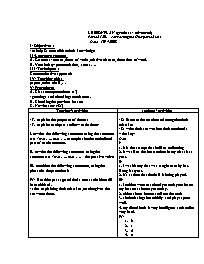 I- Objectives :
- to help Ss consolidate their knowledge
II- Language contents
A. Grammar : tenses, forms of verbs, relative clauses, formation of word.
B. Vocabulary : pronunciation, stress .
III- Techniques :
Communicative approach
IV- Teaching aids :
papers, color chalk,
V- Procedures
A. Classroom procedures (1')
- greetings and checking attendances.
B. Checking the previous lesson
C. New lesson : (42')
Bạn đang xem tài liệu "Bài soạn môn học Tiếng Anh 11 - Period 120 - Period 120: Correcting the One - Period test", để tải tài liệu gốc về máy bạn click vào nút DOWNLOAD ở trên
LESSON PLAN (grade 11- advanced)
 Period 120: correcting the One-period test
Date : 10/4/2008
I- Objectives : 
- to help Ss consolidate their knowledge
II- Language contents
A. Grammar : tenses, forms of verbs, relative clauses, formation of word.
B. Vocabulary : pronunciation, stress.
III- Techniques : 
Communicative approach
IV- Teaching aids :
papers, color chalk, 
V- Procedures
A. Classroom procedures (1')
- greetings and checking attendances.
B. Checking the previous lesson 
C. New lesson : (42')
Teacher's activities
students' activities
- T. explains the purposes of the test
- T. explains each part and how to do them:
I. rewrite the following sentences using the structure it is / was .. that . to emphasize the underlined part of each sentence.
II. rewrite the following sentences using the structure it is / was .. that . + the passive voice
III. combine the following sentences, using the phrase in the parenthesis 
IV- Read the passage and find a most suitable to fill in each blank.
- after explaining their mistakes, teacher gives the answer to them.
- Ss listen to the teacher and recognize their mistakes
- Ss write their answer into their notebooks
* the key: 
De A
I- 
1. it is the stamps that he likes collecting 
2. It was Hoa the best student in my class last year.
II-
1. I was history that was taught to us by Mr. Hung last year.
2. It's at time that football is being played.
III- 
1. I neither went to school yesterday nor learnt my lessons at home yesterday.
2. either she or he must tell me the truth
3. she both sings beautifully and plays sports well.
4. my friend both is very intelligent and studies very hard.
IV- 
b
a
d
c
d
De B:
I-
1. b, c
2. it would help reduce the arduous work of firewood collection.
II- The same as De A
III-
1. I have two questions for you to answer before leaving
2. I know the teacher teaching you English
3. I have a building built in 1850
IV- 
1. The problem which/that/___ we are very interested in has been 
2. The Woman whose daughter I love is my neighbor
3. My friend, whom you have just talked to, is a good student.
V- 
1. b 2. a 3. b 4. c 5. c
D. Homework : (1')
Prepare Reading of Unit 15
E. Remark : (1')
Ss are very weak in doing test

Tài liệu đính kèm:
p120.doc