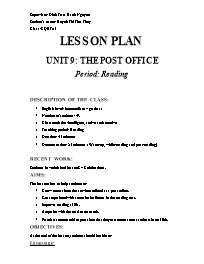 DESCRIPTION OF THE CLASS:
• English level: Intermediate – grade 11
• Number of students: 43
• Characteristics: intelligent, active and attentive
• Teaching period: Reading
• Duration: 45 minutes
• Demonstration: 25 minutes ( Warm-up, while-reading and post-reading)
RECENT WORK:
Students have finished lesson 8 – Celebrations.
AIMS:
The lesson aims to help students to:
• Know more about the services offered at a post office.
• Get acquainted with some lexical items in the reading text.
• Improve reading skills.
• Acquaint with the market research.
• Practise some useful expressions that they can come across and use in real life.
Bạn đang xem tài liệu "Bài ôn tập Tiếng Anh khối 11 - Unit 9: The post office - Period: Reading", để tải tài liệu gốc về máy bạn click vào nút DOWNLOAD ở trên
Supervisor: Dinh Tran Hanh Nguyen
Student's name: Huynh Thi Thu Thuy
Class: CQBT 05
LESSON PLAN
UNIT 9: THE POST OFFICE
Period: Reading
DESCRIPTION OF THE CLASS:
English level: Intermediate – grade 11
Number of students: 43
Characteristics: intelligent, active and attentive
Teaching period: Reading 
Duration: 45 minutes
Demonstration: 25 minutes ( Warm-up, while-reading and post-reading)
RECENT WORK:
Students have finished lesson 8 – Celebrations.
AIMS:
The lesson aims to help students to:
Know more about the services offered at a post office.
Get acquainted with some lexical items in the reading text.
Improve reading skills. 
Acquaint with the market research. 
Practise some useful expressions that they can come across and use in real life.
OBJECTIVES:
At the end of the lesson, students should be able to:
Language:
Understand the following passive vocabulary items: competitive, notify, recipient and subscribe.
Understand and use the following active vocabulary item: equip
Use the following useful expressions in real context.
Excuse me
Can I ask you some question?
What's your name?
How old are you?
Skills:
Skim the text for general ideas. 
Scan the text to find specific information.
Have skills of interviewing and answering for a market research.
Knowledge:
Know more about the services offered at a post office.
Understand and be able to make a market research interview.
APPROACH AND TEACHING AIDS:
Communicative approach
Teaching aids: blackboard, projector, handouts, chalks, wall-charts and markers. 
ANTICIPATED PROBLEMS: 
Students may not know how to make a market research.
SOLUTION:
Teacher
provides students with some useful expressions.
lets students listen and repeat the expressions.
gives a sample conversation.
PROCEDURE:
T greets the class.
T checks the old lesson and begins the new lesson with a short warm-up activity. 
Stages
Teacher's activities
Students' activities
Warm-up:
(4')
T lets Ss play a short game named WHISPERING.
Lead – in:
T: We'll play a short game named WHISPERING.
­ T divides the class into 2 teams: A and B. Each team has to choose 4 representatives.
­ T tells the class the rule of the game using demonstration at the same time:
T: The people of 2 teams stand in 2 lines. I will whisper a word or a sentence into the ears of the people at the front of the lines. These people have to pass the word or the sentence by whispering into their friends' ears. The people at the back of the lines have to speak out the word or sentence so that all students in the class can hear. The fastest team who can give the exact word or sentences will be the winner. Is it clear? 
T: remember! Do not say the word or sentence aloud, just whisper.
­ T lets Ss play the game:
T: letter
T: Where do you go to send a letter?
T: Where do you go to make a phone call?
­ T asks Ss to answer the two sentences above
T: Where do you go to send a letter?
T: Where do you go to make a phone call?
­ T asks Ss to guess the title of the lesson today.
­ T asks Ss two more questions:
T: Can people send money to their relatives at a post office?
T: Can people buy newspapers at a post office? 
­ T leads into the lesson:
T: Ok, we will know whether we can send money or buy newspapers at a post office or not after reading the text today, but first of all, please pay attention to the following words:
Choose representatives for their teams.
Listen 
The representatives stand in 2 lines.
Ask T if they don't understand the rule.
Pass the word or the sentences.
Post office
Post office
Post office
Yes/No
Yes/No
Pre-reading:
(15')
T provides Ss with some vocabulary items.
Equip:
Show form:
­ T says the word clearly and writes it on the board.
­ T gives the word class, phonemic transcription and the stress of the word.
to equip/ / (v)
to equip yourself/ someone with something
equipment/ / (n)
­ T says the word again, tapping on the board to show the stressed syllable of the word.
­ T conducts repetition chorally and individually.
Show meaning:
Technique: situation, example and translation
­ T shows a picture of Miss Vietnam contest.
T: What competition is it?
T shows a picture of a girl.
T: This is Lan. She wants to take part in the competition. What does she need in order to take part in the competition?
T: Does she need knowledge?
T: So, in order to take part in Miss Vietnam competition, Lan needs to equip herself with knowledge.
­ T shows a picture of a modern room.
T: Lan lives in this room when taking part in the competition. What does the room have?
T: so I say "The room is equipped with TV, fridge and washing machine."
T: So, what does "equip" mean?
T: "equipment" means the things that are needed for a particular purpose or activity.
T: What does equipment mean?
­ T asks questions to check Ss' comprehension.
T: What do you equip yourselves in order to go to school?
Competitive:
Show form:
­ T says the word clearly and writes it on the board.
­ T gives the word class, phonemic transcription and the stress of the word.
Competitive/ / (adj.)
Competitive with someone/something
Competitive price:
Competitively (adv.)
Competitiveness (n)
­ T says the word again, tapping on the board to show the stressed syllable of the word.
­ T conducts repetition chorally and individually.
Show meaning: 
Competitive: 
Technique: definition and translation
T: competitive means as good as or better than others.
T: What does "competitive" mean?
T: Yes.
Competitive price:
Technique: situation and translation
T: Lan wants to buy some new clothes to wear in the competition. She goes to Nguyen Trai street. There are a lot of fashion shops there, but she only shops at Thuy Hong shop ( T shows a picture of Thuy Hong shop). Why does she only choose Thuy Hong shop?
T: Yes, because it has competitive prices.
T: So, what does "competitive price" mean?
Recipient: 
Show form:
­ T says the word clearly and writes it on the board.
­ T gives the word class, phonemic transcription and the stress of the word.
Recipient/ / (n)
­ T says the word again, tapping on the board to show the stressed syllable of the word.
­ T conducts repetition chorally and individually.
Show meaning:
Technique: explanation and situation and translation
­ T gives explanation:
T: recipient is a person who receives something.
­ T gives situation:
T: Lan is able to go into the final round of Miss Vietnam. She writes a letter to tell her parents. 
So, who is the sender?
T: Who is the recipient?
T: what does "recipient" mean?
T: That's right.
Subscribe:
Show form: 
­ T says the word clearly and writes it on the board.
­ T gives the word class, phonemic transcription and the stress of the word.
to subscribe / / (v)
to subscribe to something
subscriber (n)
subscription / / (n)
­ T says the word again, tapping on the board to show the stressed syllable of the word.
­ T conducts repetition chorally and individually.
­ T points out the difficult sound /skr/ and conducts repetition of some words containing this sound.
Screen
Script
Screw
Scrunt
Scratch
Show meaning:
Technique: situation, definiton and translation
­ T shows a picture of Lan's parents.
T: This is Lan's parents. They are living very far from Lan. Knowing that Lan is taking part in Miss Vietnam competition, they want to get information about it everyday. What can they do?
T: Yes, they subscribe to Tuoi Tre newspaper so that Tuoi Tre newspapers will be brought to their house everyday. So, what does "subscribe" mean?
T: "subscriber" is a person who subscribe something. What does it mean?
T: "subscription" is an amount of money you pay when you subscribe to something, 
or the act of subscribing to something.
What does it mean?
Notify:
Show form:
­ T says the word clearly and writes it on the board.
­ T gives the word class, phonemic transcription and the stress of the word. 
to notify / / ( v)
to notify someone of something:
notification / / (n)
­ T says the word again, tapping on the board to show the stressed syllable of the word.
­ T conducts repetition chorally and individually.
Show meaning:
Technique: definition, synonym and translation
T: "to notify" means to formally or officially tell someone about something.
T: It has the same meaning with " to inform"
T: So, what does it mean?
T: "notification" is the act of giving or receiving official information about something. What does it mean?
Miss Vietnam
She has to be tall and beautiful.
Yes.
TV, fridge, washing-machine
Trang bị
Trang thiết bị
books, notebooks, pens, bags.
Tốt bằng hoặc tốt hơn những cái khác
Because it is cheaper than other shops.
Giá bằng hoặc rẻ hơn
Lan
Her parents
Người nhận
Read newspaper.
Đăng ký mua dài hạn
Người đặt mua dài hạn
Tiền đặt mua dài hạn 
Việc đăng ký mua dài hạn
Thông báo
Sự thông báo
While-reading:
(15')
T gives Ss two guiding questions to help Ss to have a general idea about the text.
T gives Ss 2 tasks to do
­ T asks Ss to skim the text to answer the guiding questions.
T: You have just learned the new words in the text. Now, you will read the text and answer the two following questions quickly:
What is the name of the post office mentioned in the text?
How many main services does the post office offer to customers?
­ T gives Ss handouts of the 2 tasks. ( see appendixes)
TASK 1: 
Ss work individually.
­ T explains some difficult words in the task.
T asks Ss to choose between the two definitions
T: "to criticize" means:
to say that you think something is good?
or to say that you do not think something is good?
T: so, what does "criticize" mean?
­ T asks Ss to do the task individually.
­ T calls some Ss to give the answers.
­ T calls some Ss to give the information in the text to prove the answers in order to make sure that all the Ss have worked.
­ T shows the answers on the screen and asks Ss to correct in their handouts.
TASK 2: 
Ss work in 6 groups and write their answers on wall-charts.
­ T divides the class into 6 groups.
­ T asks Ss to work in groups.
­ T gives 6 groups 6 wall-charts and 6 markers.
­ T asks Ss to write their answers on the wall-charts as quickly as they can. Then, three fastest groups stick their wall-charts on the blackboard. These groups will get 1 bonus in their 15 minute-test mark.
­ T checks the answers with the class.
­ T calls some Ss to give the information in the text to support the answers.
Skim the text and give the answers.
Thanh Ba Post Office
4 services
To say that you do not think something is good.
Phê phán
F Line: 0
T Line: 1 – 4 
T Line: 9 – 10
F Line: 6 – 7
F
Correct in their handouts
Work in groups
Write the answers on the wall-charts and stick them on the blackboard.
Express Money Transfer
Line: 11
Press Distribution
Line: 24
Express Mail Service
Line: 7 – 8 
31.5
Line: 9
24
Line: 15
Messenger Call Service
Line: 18 – 19 
Subscribing
Line: 26 – 27 
Post-reading:
(10')
Role play
T asks Ss to practise speaking about the services of Thanh Ba Post Office by asking them to make a market research.
­ T gives Ss the market research forms and asks them to fill the forms within 3 minutes.
­ T asks Ss to work in pairs to make a market research interview:
Firstly, T elicits the questions about name and age.
T shows some useful expressions and asks Ss to listen and repeat.
T makes a model interview to help Ss understand how to make a market research interview.
­ T asks Ss to work in pairs interviewing each other using the expressions to begin the interview.
­ T calls two pairs out to perform in front of the class.
Fill the forms
What's your name?
How old are you?
Listen and repeat
Work in pairs interviewing each other.
Home-work:
(1')
­ T reviews the lesson that the class has learned and answers the two questions T has asked at the beginning.
­ T asks Ss to learn the vocabulary and do homework at home.
Learn the vocabulary and do homework